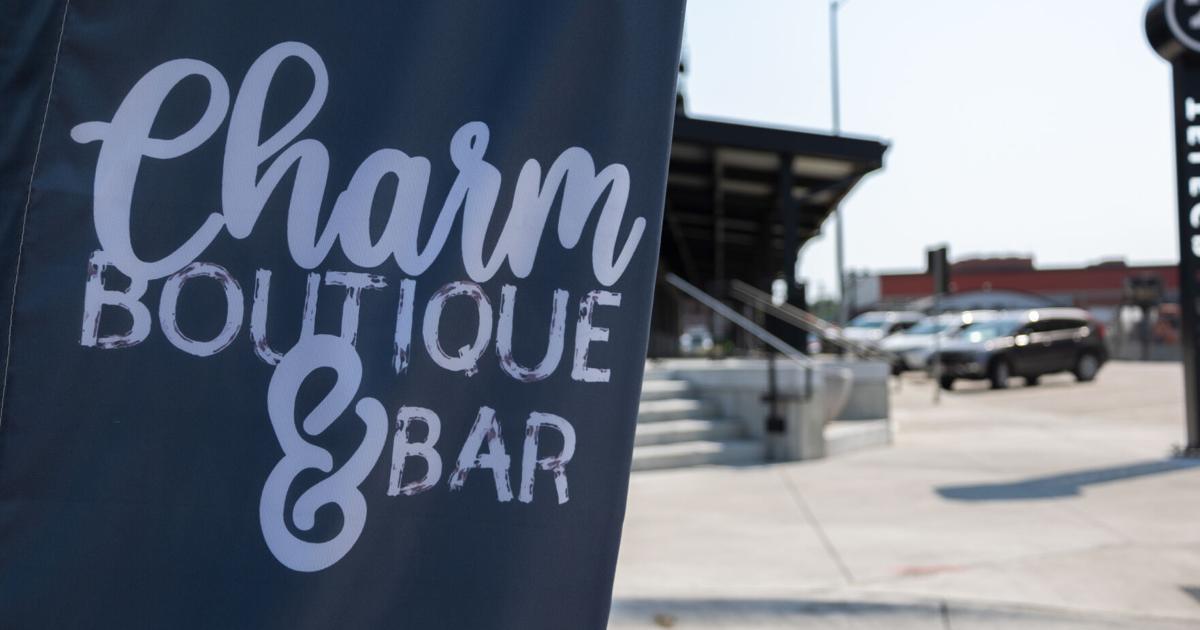 Charm Boutique & Bar offers its customers a "sip n' shop" experience | Culture
Finding a place to grab a drink isn't the hardest thing to do in Lincoln with O Street's great selection of bars, pubs and live music venues. However, finding a place where you can sip cocktails while shopping for clothes is a little trickier.
Charm Boutique & Bar was created to solve this problem by combining the two activities of consumption and purchase of clothes. Located at 200 S 21st St., the quaint store is housed inside a sturdy brick building in the Telegraph District. The decor is hip and chic with a full bar that runs along the side of the boutique and a hard-to-miss pink couch. Customers can stretch out, enjoy a glass of wine or a cocktail, and chat with employees and other customers while browsing the vast landscape of dresses, bathing suits, blouses, and sweatshirts.
Owner Lindsey Tederman said she's always had a passion for fashion and wanted to help women feel empowered in their clothes and shopping in a comfortable environment. She also noticed that no other shop in the area had a fully stocked bar, and she knew she wanted to create something to fill the void.
"When I was little I loved to play shop and would always be the kid wearing crazy outfits," Tederman said. "I love dressing people up and helping women feel confident. Also, I wanted to do a store like no other in the area, so I decided to do a boutique with a bar.
Charm Boutique & Bar moved to Lincoln from Gothenburg, NE in 2021, which was in the midst of the COVID-19 pandemic. Many people still used the Internet to buy clothes rather than going to stores to buy goods. Tederman said her journalism degree and marketing background helped her market her business on the web and attract customers to her in-person shop.
"I do a lot of social media marketing, and although people still do a lot of shopping online – and we also have an online store for those who prefer to stay at home – I think that since my store has a bar and is an experience, it pulls [more] people in my brick and mortar store," Tederman said.
Taeva Hoppe, sales assistant at Charm Boutique & Bar, also said that while online shopping is popular, stepping into the store and shopping in person is second to none.
"I don't think our store will ever become a primarily online shopping experience," Hoppe said. "I think what we have going for us is that we're a bar, and while you can order our clothes online, you can't order a Moscow Mule and have it shipped to you. I think that's where we have a little more of a unique experience.
While the cocktails and wine are tasty, the dress options Charm Boutique & Bar has to offer are equally delicious. They offer clothes for all body types and all ages. The store offers sportswear as well as casual blouses and pants. However, the boutique's selection of dresses is the main attraction, according to Hoppe.
"My favorite piece of clothing I bought from the store was probably an ivory and black polka dot open back super long dress. It's absolutely gorgeous," Hoppe said. "I love all of our Husker stuff too. We have the cutest Husker stuff.
Although Charm Boutique & Bar has a lot to offer right now, it is constantly evolving and growing. Tederman said she is always thinking of new ideas and new ways to improve the store.
"I want to help local entrepreneurs by providing shelves where they can put their merchandise to sell inside my store. I also want to host exclusive parties for birthdays and weddings where people could come in and have the store to themselves," Tederman said. "I have a billion ideas in my brain, so who knows, tomorrow it might be something new."