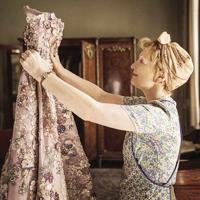 Cinema: A working woman dreams of owning a legendary dress | Lifestyles
Fanciful narrative fiction is a rare bird these days, especially when it comes to movies. With major studios' focus on comic book movies and their promise of mega box office receipts, fewer mid-budget films are being approved, and most that are approved are being positioned for streaming platforms. These are films whose production costs between 25 and 50 million dollars.
Some of the films will have a short theatrical run in order to qualify for the Oscars, but for the most part character-driven films aimed at mature audiences that tell a backstory, focus on uplifting emotions, or offer sweetness. Comedy tales are not a priority for Hollywood business leaders.
The studios had never been shy about getting fancy. There are plenty of little treasures, like 1959's wonderful 'The Mouse That Roared', which stars Peter Sellers in three lead roles and is based on Leonard Wibberley's comic novel. 1987's "The Princess Bride", with a screenplay by William Goldman and based on his novel, is a well-deserved classic.
Writer Paul Gallico's beloved character, British housekeeper Ada Harris, is featured in four novels. A 1992 TV movie called "Mrs. "Arris Goes To Paris", which is the title of the original 1958 book, stars Angela Lansbury as Harris.
Over 60 years after she first appeared in print, hugely popular housekeeper from London, England, Harris finally makes her big-screen debut in a rare film aimed at summer moviegoers looking for something that doesn't. is not comic book or anime oriented.
"Mrs. Harris Goes To Paris" arrived from Britain.
The film offers the uniquely familiar British exploration of its citizens, especially those comprised of quirky, self-deprecating, or perhaps slightly eccentric qualities. A film like this draws its fantasy from deep-rooted characteristics, which create a person worth knowing. A protagonist with whom the audience can identify. The story is not about a working-class hero, but rather about a hard-working heroine.
It's 1957 and Britain is still recovering from World War II. The film's comedy is rooted in sentimentality and there are whispers of drama. The central character will touch the hearts of the people she meets along the way to the film's clever conclusion. She is strong, resilient and honest.
Mrs. Harris, a widow still homesick for the war, cleans houses for a living. With a wealthy client, she discovers something that is, for her, absolutely magical. It's a haute couture dress by legendary French designer Christian Dior. She marvels at her beauty and wonders about her story.
Ada decides she must have one of these dresses. Her determination is fierce and nothing will change her mind, including the fact that she can't afford a Dior dress. She works even harder, and as it should be for people who deserve a bit of luck, a good fortune allows her to earn some money.
In Paris, she leaves. Her pile of British books firmly in hand, Harris delights and amuses Parisians because she is, well, she is adorable. Her scintillating sweetness and curious personality help her engage with the sometimes condescending French citizens.
Of course, Ada needs allies. and she will find them. Just as she finds a way to understand the world of high fashion. Just like she wins entry to a fashion show. and just as she quickly understands that the imperious woman who controls access to Dior dresses must be conquered. How to do? How to do? This Dior employee is a haughty obstacle to the accomplishment of her mission and the chance to own a fabulous Dior original.
It's here that director Anthony Fabian and his co-writers Carroll Cartwright, Keith Thompson, and Olivia Hetreed really deliver the goods in a film packed with perfect goods.
Claudine Colbert's character is the French goalkeeper. To say she's appalled that this English intruder thinks she can not only wear a Dior, but can own one, is to understate the word appalled. Delightfully interpreted by Isabelle Huppert, Colbert is so pretentious, it's as if his nose could touch the clouds. Huppert's performance is perfect and offers an excellent counterpoint to the friendly assistance of the Marquis de Chassagne, a true gentleman well played by Lambert Wilson.
As Mrs. Harris, Lesley Manville is magnificent. She often appeared in independent films directed by British great Mike Leigh. Manville has a supporting actress Oscar nomination for playing a fashion designer's sister in Paul Thomas Anderson's stunning "Phantom Thread."
In "Mrs. Harris Goes to Paris," Manville creates a character so charming, relatable, and heartfelt that audiences easily believe in her and her quest. Ada's determination is contagious. Her energy is boundless. All the sadness and past disappointments in his life crumble and become the cornerstones of a path to happiness.
In a film about beautiful clothes, it's no surprise that production values ​​are on point and Jenny Beavan's costumes are impeccable whether you're in London or Paris. Maison Dior cooperated by opening its archives for inspiration.
Like an ice-cold drink on a hot summer day, "Mrs. Harris Goes To Paris" is a refreshing treat. If you haven't been to the movies in a while, this pick might tempt you to go.
Michael Calleri reviews films for the Niagara Gazette and the CNHI news network. Contact him at [email protected]