Coon Rapids woman promotes size inclusion in new women's boutique | News
Amy Gray said she always had a love for fashion. However, being a "curvier girl," she said it can be difficult to find clothes for herself.
Wanting to be more inclusive, Gray decided to open her own boutique in downtown Coon Rapids.
Style on Main, a boutique for women located at 521 Main Street, recently opened on Friday, May 6. While she sells clothes in multiple sizes, Gray keeps a section of the store exclusively for "curvier queens."
Gray said she had a wide variety of tastes when it came to clothes, but also wore scrubs often while working at her second job: working as a nurse at the Plains Area Mental Health Center.
"I can go from sweatpants and t-shirts to beautiful blouses [and] jeans," Gray said. "I can go different ways with my fashion, I really don't have a specific one. If I like it and feel comfortable in it, I'll wear it.
At first, Gray wanted to create an online store. After posting about it on Facebook, Katie Mason, the community coordinator for the town of Coon Rapids, asked Gray if she planned to open a physical store.
Eventually Gray said he met Mason that same week, and within eight weeks Gray opened his own business.
"Just when I walked in, it was already done," Gray said of the building. "I didn't have to do much with it, it was pretty much ready to go. We put our little touches to it, but it was ready to go.
Although she owns the shop, Gray does not work alone. Her daughter and her fiancé's daughter also help customers shop for clothes.
"It's been crazy the last few months, but I have really good family support that has helped me out," Gray said.
The store is open Wednesday from 1 p.m. to 7 p.m., Friday from 1 p.m. to 6 p.m. and Saturday from 10 a.m. to 3 p.m. On days the store is closed, Gray said she works in the Plains Area.
However, she said her goal is to open the store more days, which will hopefully make it her full-time job.
Keeping a wide variety of patterns, whether floral, cheetah or plain prints, Gray said she tries to sell her clothes at a reasonable price. Shirts range from $24 to $34, jeans up to $65.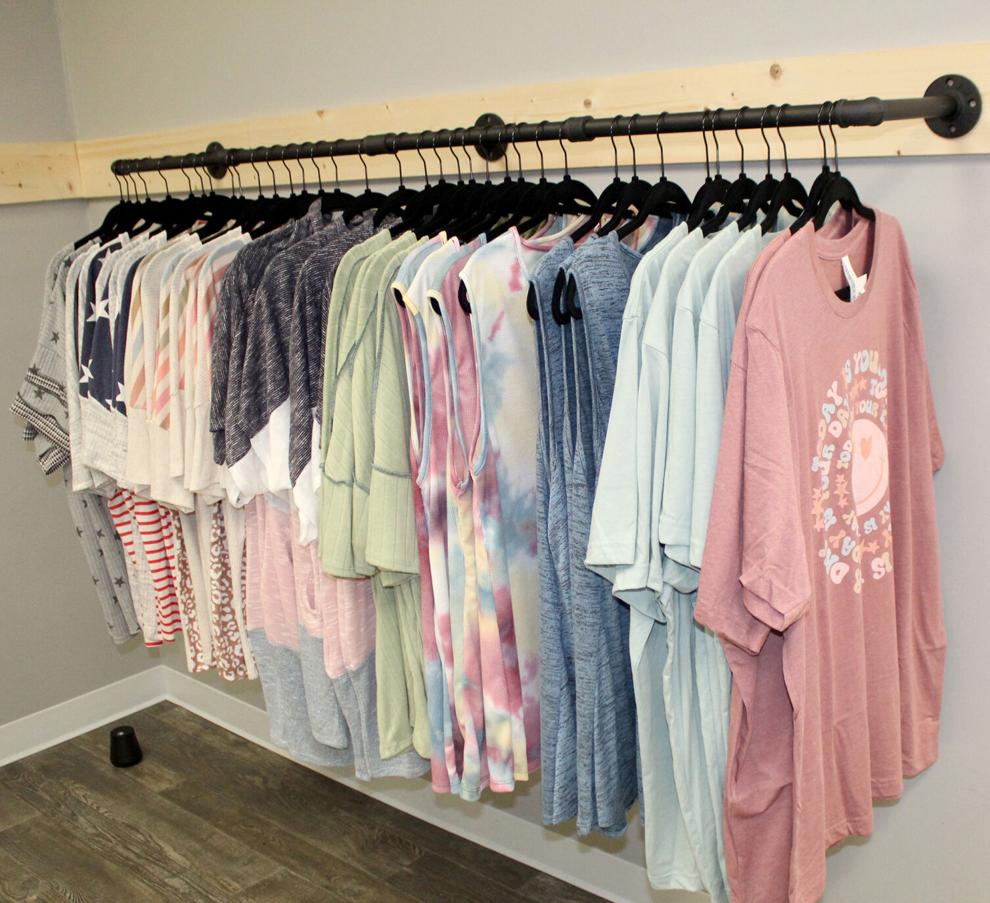 "I was really nervous because I have different tastes than other people," Gray said of her store's clothes. "If I see something, I just did it. There really wasn't anything specific I was looking for.
One of the benefits of having a boutique downtown, according to Gray, is the convenience of being near a store where customers can easily try on clothes without having to shop online.
Gray said she recommends shoppers visit the store, saying she will try to cater to different types of styles.
"Just come try us out," Gray said. "Anyone who has a special style and if I think it would sell here, I would definitely try to bring it in."