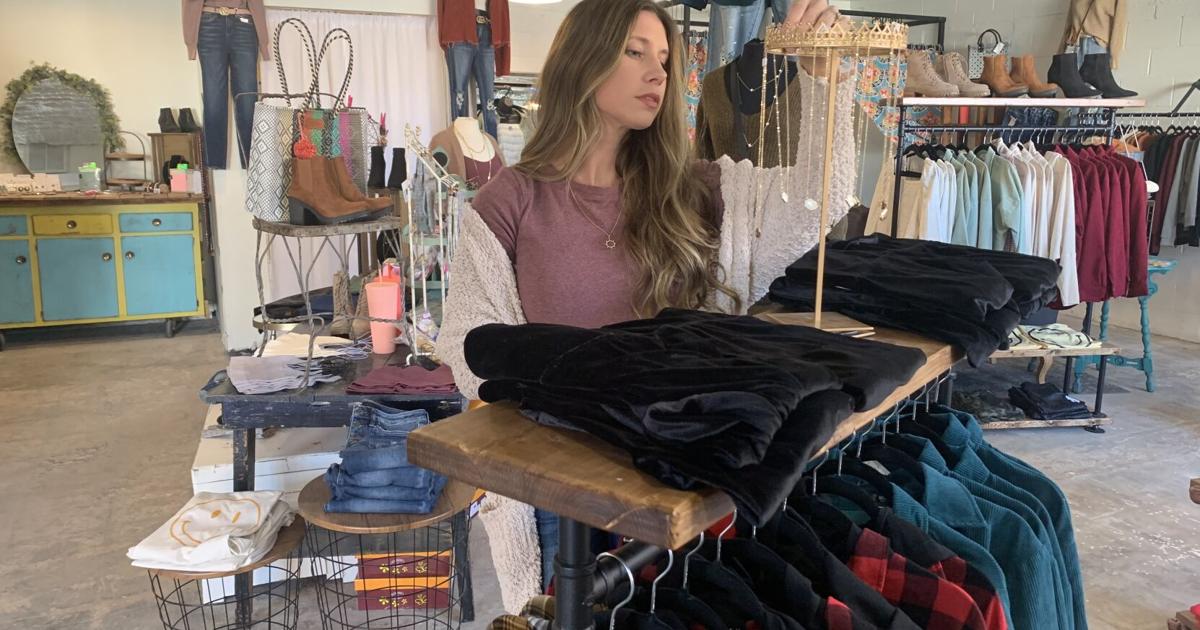 Duncan clothing store expands at Campus Corner | News
Campus Corner's newest boutique offers seasonal and annual dress styles, many of which are hand-sewn, in addition to shoes and accessories.
Duncan's longtime resident Angie Wolfe and University of Oklahoma alumnus Kelsy Keizer last year envisioned Norman as a potential location for expansion for their Duncan-based clothing and accessories business. Their goal of opening a second location in Norman came true just in time for the holiday shopping season.
Wolfe started selling children's clothing in 2018. After opening a storefront in Duncan in January 2019, she met Kelsy Keizer, who wholesaled children's clothing soon after.
When Wolfe mentioned that she liked the clothes her friend's child was wearing, she reached out to Keizer to discuss business.
"I said [Keiser] it would be really great if you could wholesale us, so she started selling at our store here in Duncan, "Wolfe said.
The Branded Apparel business model has developed into a boutique specializing in clothing for girls to seniors.
"We have 16-year-old kids coming in for their shopping, and then women who are 70 years old," Wolfe said.
The following year, Keizer offered to open a storefront in Norman. As a former University of Oklahoma student, she believed Norman would be a great place to develop. She offered to run the store, and the search for the perfect space began.
Wolfe said after checking out potential locations in 2020, they decided to wait for the right opportunity.
"We just didn't feel like it was a good fit because of everything with COVID-19, so we put it on the back burner," Wolfe said.
Keizer and Wolfe resumed this research in 2021. Keizer said that seeing the space vacant at 320 White Street on Campus Corner, they both knew it was time to go.
Keizer said two weeks after finding the space they moved in and had their grand opening on November 6, just in time for the final weeks of the football season. Kaiser said the draw in November was important.
"I think we have pretty good foot traffic here, and especially on the weekends people will just walk around the campus because it's beautiful," Keizer said.
Keizer and Wolfe recently started doing their own screen printing, making t-shirts in-house and plan to continue to develop this business area in 2022, in addition to a continued focus on social media and a partnership. with Scott Lambert, the owner of the NOUN. Hotel, currently under construction.
"They're going to be doing little pop-up shops at the hotel so we're hoping to partner with him to get our name out there and I think that will really help us."
Erica Fernandez started shopping at Branded Apparel at the Duncan store in July, but has since shopped at Norman.
"I'm from Washington state, but I buy from Branded Apparel because the inclusivity of sizes and styles is amazing," Fernandez said.
Fernandez said the size she wears has varied over the past few years, and Keizer goes the extra mile to help her find the right amount of stretch.
Fernandez said she lives on the West Coast, shopped on their online website, and checked the store's social media posts for outfit ideas.
"I can get jeans, accessories and everything at the same time," Fernandez said. "They opened before the holiday season and I was able to clear everything for everyone on my list. I love the women behind it and it was a great shopping experience.
Keizer said they are currently booking two-hour VIP events, where the host and all attendees get a discount.
"We provide champagne and they can bring a charcuterie board or cupcakes for a brunch, a party or a birthday," Keizer said. "It's just something fun to do as an alternative to eating out. "
To view the store's online store, visit www.brandedapparelboutiques.com.