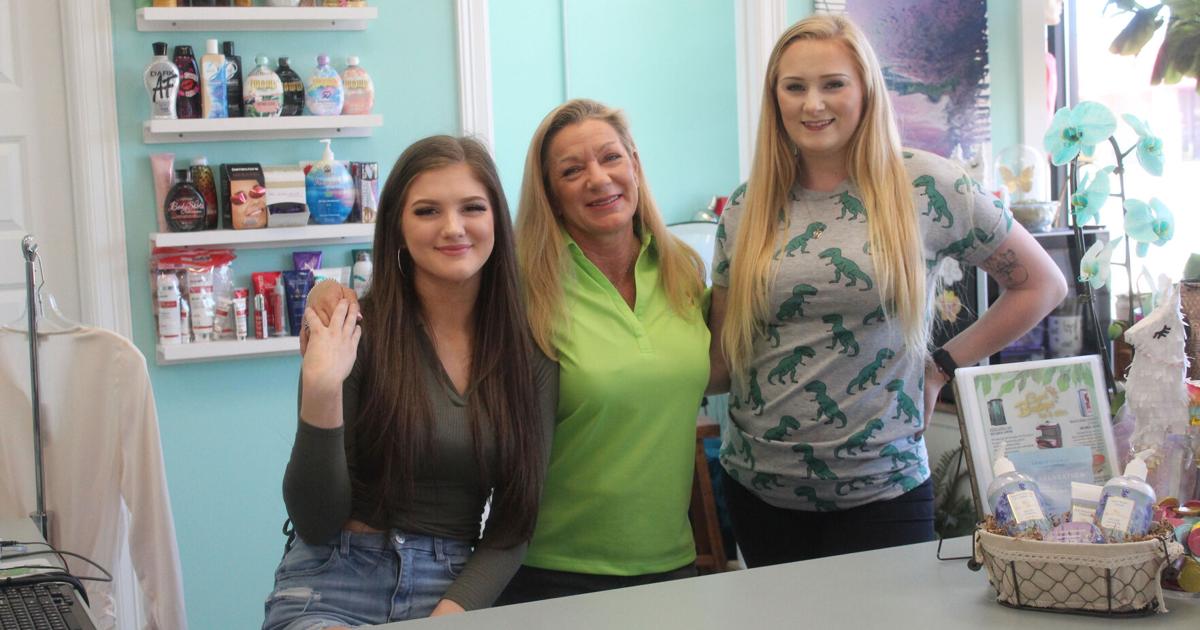 Grand Boutique Tan and Gift organizes a ribbon cutting in Marshall | Business
The Grand Boutique Tan and Gift held an official ribbon cutting with the Grand Marshall Chamber of Commerce on Tuesday after opening its doors two months ago.
"It was a beautiful day, there were a lot of people who came out to celebrate with us," said owner Kim Ponder.
She said the company officially held its grand opening event in March, offering a wide range of tanning and beauty options as well as a boutique full of clothing options for babies, toddlers and women of all ages.
Ponder said she became interested in offering tanning options at her business due to the lack of options available to members of the Marshall community, which required her to travel to Longview whenever she wanted to tan.
"At first I thought it would be fun to drive to Longview and do other things while I was there," Ponder said, "But after doing it for a while it became very difficult to get there. come on, I mean I have a life, and I know a lot of other people must have the same problem.
For this reason, Ponder said the company now offers a wide range of tanning options to the community, including several new high-end regular tanning beds, as well as a spray tanning bed.
"Our spray tan bed has a purple undertone, which eliminates that orange undertone that you get with many older spray tans," Ponder said.
Additionally, she said that in the near future, the company will also add a standing tanning bed, which is brand new.
In addition to tanning options, the company also offers a hydromassage bed, which costs $25 for a fully customizable 45-minute session on the bed.
Community members can also try the Slimline Sauna Pod, which uses red light therapy and sweat therapy to help clients lose weight while repairing their skin.
Ponder said the use of red light therapy is actually recommended by dermatologists for skin repair after skin cancer treatment, as well as a wide range of other beneficial uses.
"There's nothing like it anywhere else in the region," Ponder said.
Besides the health and beauty options available in the company, Ponder also offers a wide range of clothing products for the community.
She said she offers a number of children's clothing lines, including London Bridge, Mud Pie and more. The store also offers a number of other children's products, including stuffed animals, books and more, which Ponder says makes the place an ideal shopping spot for parents-to-be, or any someone invited to a baby shower or expecting a new family member.
"We really have something for every woman from around 15 to over 50," Ponder said, "As well as babies, toddlers and children, there's something for everyone here."
The store also offers a wide range of clothing, jewelry, shoes and accessories for women. All items are chosen by Ponder not only for their style, but also for their texture and level of comfort.
"Softness is so important to me, anything I buy I like to make sure I get a chance to smell it to make sure everything is of good quality," Ponder said.
The store also offers a range of products for men, including t-shirts, mugs and even aprons. Additionally, a range of candles created by a group of active duty military personnel are also available at the store.
"We have a lot to offer," Ponder said, "Something for everyone."
The store is located at 1100 E. Grand Ave. at Marshall and is open Monday through Thursday 9 a.m. to 7 p.m., Friday 9 a.m. to 6 p.m., and Saturday 9 a.m. to 4 p.m. For more information on the location, community members can go to www.facebook.com/GrandBoutiqueTan.