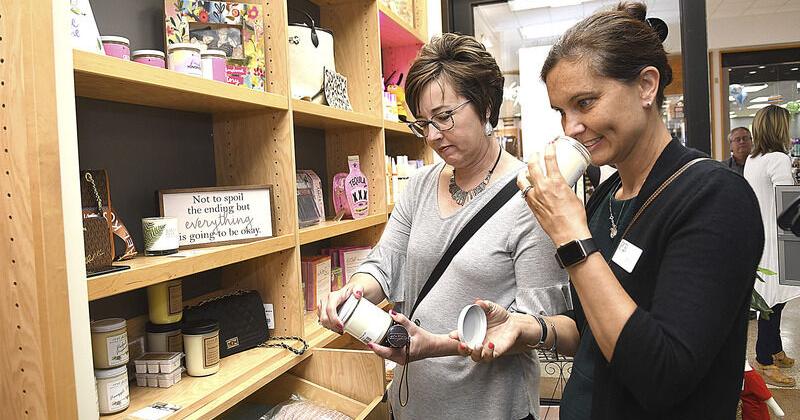 Hive Health & Boutique has a bit of everything | State and region
A successful Oak Hill business focused on empowering women celebrated the grand opening of a second location in the Crossroads Mall on May 26.
The Hive Health & Boutique offers everything from boutique clothing, shoes, handbags and accessories to home decor.
"We've tried to take a bit of everything we have in our Oak Hill store and offer it there (at the mall)," said Jennifer McKinney, co-owner of the business with Hollie Elswick.
The women, both 2009 graduates of Fayetteville High School, joined forces in 2019.
McKinney, who was working full time at the time, had found success as a distributor of Bee Pollen health supplements and decided she would like to open a physical location.
"I was selling online and meeting people to deliver," she said. "So I posted a message on social media looking for a business partner saying I wanted to enter a storefront."
The post, McKinney said, sparked interest from Elswick, who she said also had a side business, selling boutique items.
"She (Elswick) saw the post and jumped on it," McKinney said.
The women opened The Hive in a small space on Oak Hill's central avenue in June 2019.
With their combined businesses and growth goals, McKinney said it didn't take long for them to realize they needed a bigger space.
So in June 2021, the women moved to the East End of Oak Hill.
"We were at full capacity and Hollie is ambitious," McKinney said with a laugh, explaining that The Hive found its new home when a building owned by Elswick's family became available.
"She was like, 'Let's go big or let's go home,'" McKinney said. "So we did that and started adding services."
The original location of The Hive offered two sunbeds, but McKinney and Elswick added a third after the move.
"We also have a full hair salon, massage therapist and coffee bar," McKinney said. "We just kept growing."
As the women continued to add to The Hive's list of offers, McKinney said she was looking for a way to clarify what the business is.
When she looked at the total package, she said the mission was clear.
"It's female empowerment, female empowerment," she said.
McKinney explained every service, from the salon to the sauna to the tanning area — both tanning beds and spray tans — and the shop is designed to help customers take care of themselves.
"The boutique is size inclusive," she said, explaining that women looking for an extra small up to a 3X can find the perfect fit.
"I'm saying we're in the confidence business," McKinney said. "We want our customers to feel better when they leave than when they arrive."
It was the success of their Oak Hill venture, McKinney said, that inspired Crossroads Mall's second location.
McKinney said the mall, which opened in October 2021, is finding its niche with a new set of customers.
"It takes time to build things up, but we're doing well," she said.
Although both spots are The Hive, McKinney said the locations offer "different vibes."
"You can get service in Oak Hill," she said. "Get your hair cut, get a massage, eat something, or just sit in the living room and chat.
"The mall is more shopping oriented."
McKinney is hesitant to use the word "grow up" to describe The Hive's goals.
"We offer a lot now," she said with a laugh.
Instead, she said she and Elswick hoped to help.
Every Thursday at 5:30 p.m., the women host Queens Talk, a 45-minute Facebook Live show designed to educate and empower viewers.
"The idea is just to help spread good things around the world," McKinney said. "Whether it's a 10-minute shopping experience or a full salon experience, we want customers to feel taken care of," she said. "We want them to feel like they're part of something.
"We just want to encourage people."
• • •
Visit The Hive Health & Boutique at Crossroads Mall or 1442 East Main St. in Oak Hill.
Online purchase options are available at www.thebeeboutique.com and www.skinnywithjenny.com.
— Email: [email protected]