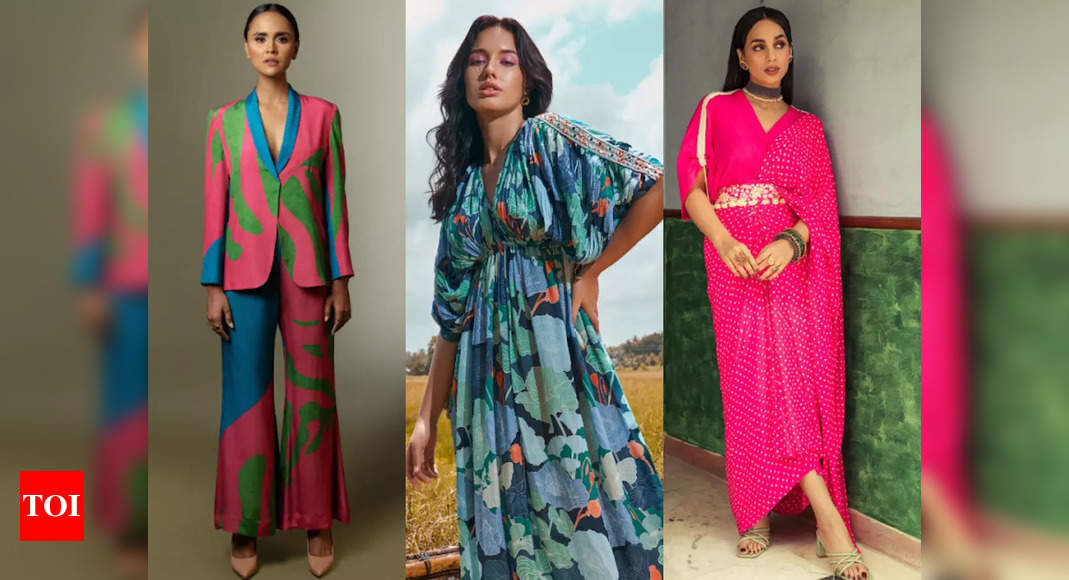 Holi Party Outfit Ideas for Women Who Love Fashion
Festivals are well known for adding a savory touch to the mood, each carrying a distinct appeal in the form of food, clothing and rituals. With Holi here, there is little left for the imagination, especially with the whole palette of colors that is reflected, in all its might, in the festival celebrations. And, if you haven't really played with colors today but still want to wear something colorful, here are some chic dressing ideas for the day!
To toast to the spirit of Holi and to add some color vibrancy to your wardrobe, we've mixed and matched a range of sets representing some of the popular local brands, to help you celebrate Holi in style.
pink power
Flaunting its ready-to-wear sensibility with the T, Pink City by Sarika's all-pink one-piece set creates a statement with a blend of modern vigor and traditional quintessence. While the heavily embroidered waistband adds just the right amount of pizzazz to the look, the cutouts and polka dot pattern make the look utterly elegant.
Green greatness


Synonymous with elegance and ethnicity, Gulabo Jaipur's green dress redefines Indian tradition with its minimalism, while offering a refreshing blend of suave fabric, assertive silhouette and design exclusivity.
multicolored splash
Capturing the true essence and vibrancy of color, Nautanky's blazer-trouser combination is a stylistic delight, as well as celebrating couture spirit. In addition to the lively look, the overall formal tone and individualistic pattern reflects a rather rich fashion experience.
Indo-Fusion Exquisite
from Awigna
lehenga choli is a vision in peaches, due to its elegant cuts, design intricacies, and an enchanting fusion of traditional aesthetics and modern sensibilities. Whether it's the punchy blouse with its captivating patterns and fitted cut, or the flair of the
lehengas, Adorned with symmetrical elements, the set is sure to add to your Holi extravaganza.
White elegance
Based on silk, Richa Khemka's all-white ensemble is distinguished by a chiffon ruching. Imparting understated elegance through its minimalist tone, the outfit puts forth a one-of-a-kind fashion statement with its less is more appeal, while also incorporating a 3D Gingko applique.
yellow funk
Boasting a hand-painted jacket and bodice, as well as solution-dyed flared trousers, Vedika M's one-design-per-dress philosophy showcases original designs and exclusive ready-to-tailor . While the three-piece outfit stands out with its abstract painted patterns, its innate festive vibe makes the look a win-win affair.
At the heart of Archana Shah's kaftan look are floral prints, which showcase a diverse range of shades. The V-neckline and the gathers at the front and back yoke add to the finesse of the whole, while the use of Bamberg crepe gives it a fascinating touch.