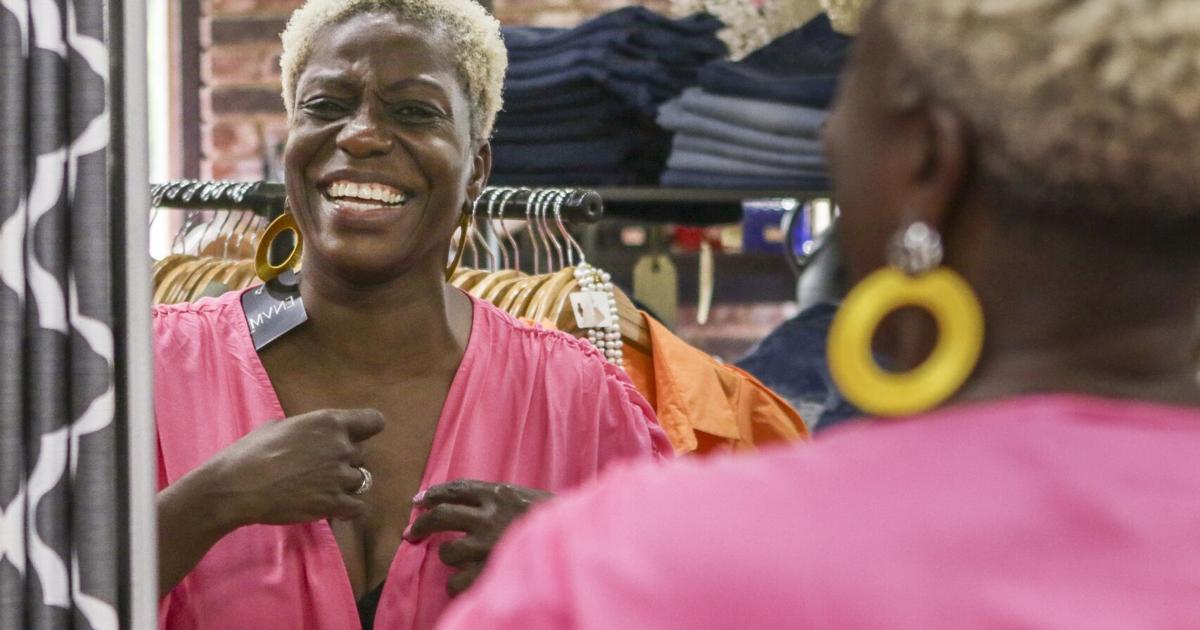 It's avant-garde and chic, and very, very colorful | Local company
FLORISSANT — The last few years have been difficult for the retail trade. But in a bustling corner of Florissant, a unique clothing store has found a way to thrive.
EdgyChic Boutique has been open for six years. It's a small store – just 975 square feet, including the back room – that sells colorful clothing to women of all sizes and shapes, from petite to 3X, with some items up to 5X.
"Our goal is to bring happiness to a woman's day and inspire her to creatively express herself through fashion, regardless of size," said owner Angela Harris, 50, who considers herself a "round girl".
When the pandemic hit, Harris adapted to fit the times. She temporarily closed the Florissant store — and permanently closed a location in Fairview Heights — and focused on online sales.
"We had to go from bricks to clicks," she said.
The store already had an online presence, but during the lockdown, it brought the store to its customers via social media, with live videos on Facebook Live, Instagram Live and Vimeo. She also took advantage of reduced COVID prices to rent a 5,000 square foot warehouse in Pontoon Beach to store her inventory and conduct her e-commerce.
"There's nothing like making money while you sleep," she said.
The physical store at 396 rue Saint-Ferdinand reopened in the spring of 2021. Sales in this store and online are now about the same.
Another innovation came when she saw someone was selling an old school bus. She bought it, revamped it, and turned it into what she calls "a mobile boutique experience." Besides lots of clothes for sale, the bus has a cloakroom, air conditioning and music.
"It's a shop on wheels," she says.
She brings the bus to vendor and corporate events, fundraisers and parties. The concept is similar to a food truck, she says, but with clothes.
The store is imbued with Harris' lively personality. She handpicks every item she sells, and everything is bright and bold. It looks like the color exploded inside the store and landed on the clothes in bright, eye-catching patterns.
"Color says a lot about you," she said. "Fashion says a lot about a person before it says anything."
Harris' interest in fashion began when she was a little girl. She intentionally wore mismatched socks and reveled in mixing prints such as polka dots and checks.
"I've always had a flair different from others. I was always only me," she said.
"My mom allowed me to be who I was. In fact, she encouraged it.
This sense of style is evident throughout the store. Just inside the door is a goggle holder and sunglasses with dazzling designs. Sandals adorned with rhinestones and pearls are at the counter. Bright and elegant kimonos hang on the far wall.
But a calmer side to his personality is displayed elsewhere. Signs with inspirational or motivating phrases are hung high on the walls: "Do what makes you happy". "Start each day with a grateful heart."
And of course: "Dreams come true!"
Harris believes in motivational phrases. The bracelets she sells come with inspirational words ("I believe", "Shine", "Fearless", "Thank God"). On Mondays, she posts what she calls Monday Motivations on the store's website ("Stop doubting yourself. Work hard and make it happen!"); Wednesdays are for Wednesday Wisdom ("The Spirit Leads Me Where My Confidence Is Boundless," which is the title of a Christian pop song).
A native of Hayti, Missouri Bootheel, Harris grew up in North County and attended Riverview Gardens High School. She earned an undergraduate degree in business administration from Lindenwood University and then an MBA from the University of Phoenix.
For 20 years, she worked as an executive for Macy's in Earth City, serving as collections manager, project manager and head of the furniture department. She came closest to actual sales when she was in charge of the beds and bedding department and trained salespeople in mattress sales.
But she had a dream: she wanted to own her own business. When she was made redundant along with 750 other workers at the company's call center in Bridgeton in 2016, she knew her time had come.
"It was now or never for me," she said.
Her husband, Eric Harris, is the principal of Cross Keys Middle School in the Ferguson-Florissant school district. She described it as "very traditional – go to work, do your job and retire with a gold watch".
"I'm the opposite," she said.
When she decided to open her own clothing store, she asked him how long he could afford to carry her, in order to get her business off the ground.
"He gave me six months. It's been six years," she said.
Last year, EdgyChic Boutique was voted the best boutique in North County by Community News. Surprised by the honor then, Harris credits it now to the experience she provides — the service, the colors, the accommodating sizes, even the fact that each of her dressing rooms has a small fan.
"When people shop here, even if they're alone, it's like shopping with their girlfriends," she said.