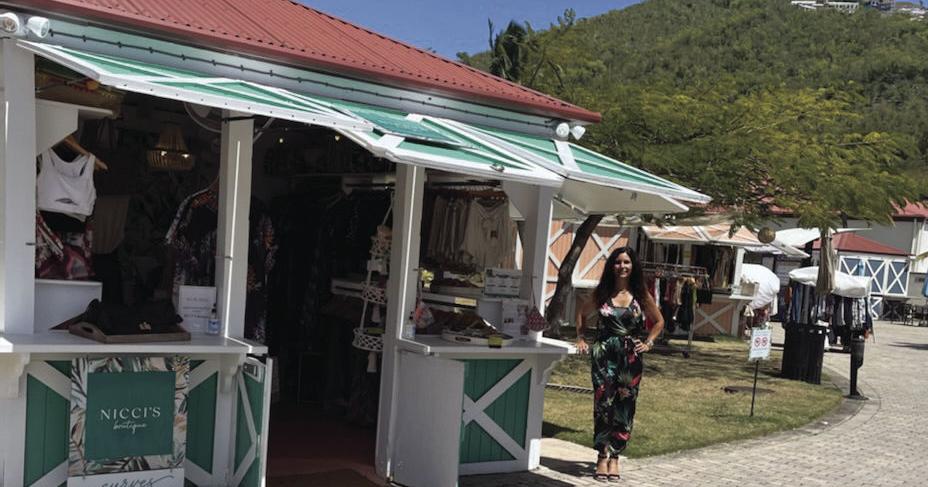 La Boutique Nicci expands, offers new fitness classes | Business
ST. THOMAS – How much can you fit in a little kiosk store at Yacht Haven Grande? For Nicci Roos, apparently not enough. In just over eight months since its opening, the Nicci boutique has now added a second kiosk to expand its collection of clothing, jewelry, bags, art and more.
Roos grew up in St. Thomas and spent every Saturday working at her parents' restaurant, Cuzzin's, on Back Street in downtown Charlotte Amalie.
"I owe a lot to my parents," she says. "They are entrepreneurs and I have seen them work very hard and they have really followed their passions and their dreams. They made me work every Saturday when I was a kid since I was 12. I complained and complained but at the end of the day I'm so grateful that they showed me how to be strong and independent and be a free thinker and open minded and have such a work ethic.
Roos graduated from the Antilles School and went to the University of Miami to study international finance and marketing. She was working in real estate in Miami and South Beach when two hurricanes hit Miami one after another. She went home to her parents for a week, ended up with a job at Frenchman's Cove, and never came back.
A people person, she has worked in hospitality and sales at Marriott Vacation Club, Margaritaville and Wyndam Resort. When the pandemic arrived, Roos was furloughed and did not work for almost a year. This period allowed her to focus on her passion project, owning and operating a boutique, an idea she had been considering for a decade. She noticed the kiosks at Yacht Haven Grande, and although they were small and needed some work, she saw the potential. Roos used all of his savings, stocked up on his credit cards and opened the Nicci store in August 2021.
On her first show at the Atlanta market to buy some merchandise, Roos felt overwhelmed. A chance encounter in an elevator left her with what she considers the best advice. "There was this gentleman and I could tell he had been doing this for a while," she said. "I asked him what his biggest piece of advice would be. He told me "don't buy anything unless you like it, because if you don't like it, you're not going to sell it". It really hit home, so I try to have little bits for everyone, but it's something I really, really like. I spend hours cultivating inventory, so it's literally like selected clothes.
Fair pricing is also very important to Roos, and she tries to offer items at a variety of price points, from $10 to her eco-friendly luxury line.
When the kiosk next to his became available, Roos decided to expand and opened it just over a month ago. This allowed her to carry other items that she had no room for. She now includes sizes for curvy women up to 3X, a small collection of children's clothing and has ordered a collection of men's clothing. She also has fair trade items as well as clothing from local designers and jewelry and artwork from local artists.
When Roos opened the store, it was with the local community in mind, and she wanted opening hours to be accessible for those who regularly work nine to five jobs. She opens the store from 4 p.m. to 8 p.m. Monday and noon to 8 p.m. Tuesday through Saturday, allowing her customers to browse and take their time after work.
Because there is an expanse of grass behind his gazebos, Roos decided to use it with fitness classes six days a week. Although classes may change from time to time, participants can enjoy yoga, Zumba dance, kickboxing, Socacize and more.
"The exterior is fantastic because I really wanted to do something that was more family-centric," she said. "I wanted the courses to be affordable for the community. It's only $10 and you don't have to go online to sign up. You can bring your children and the spouse can participate or have a cocktail at the Box Bar next door. It's just a really nice way to do it. I feel like people appreciate that. »
Roos is working on offering art classes in the near future, and children's art classes will begin sometime next month.
Her next project is The Samsara Collection, an online consignment store where Virgin Islanders can sell clothes to local shoppers online and use the Nicci store as a drop-off point. The online store should be up and running in a few months, and she hopes to donate some of the profits to the Family Resource Center.
For more information, visit www.niccisboutique.com, Nicci's Boutique VI on Facebook or Instagram or call 340-244-5760.