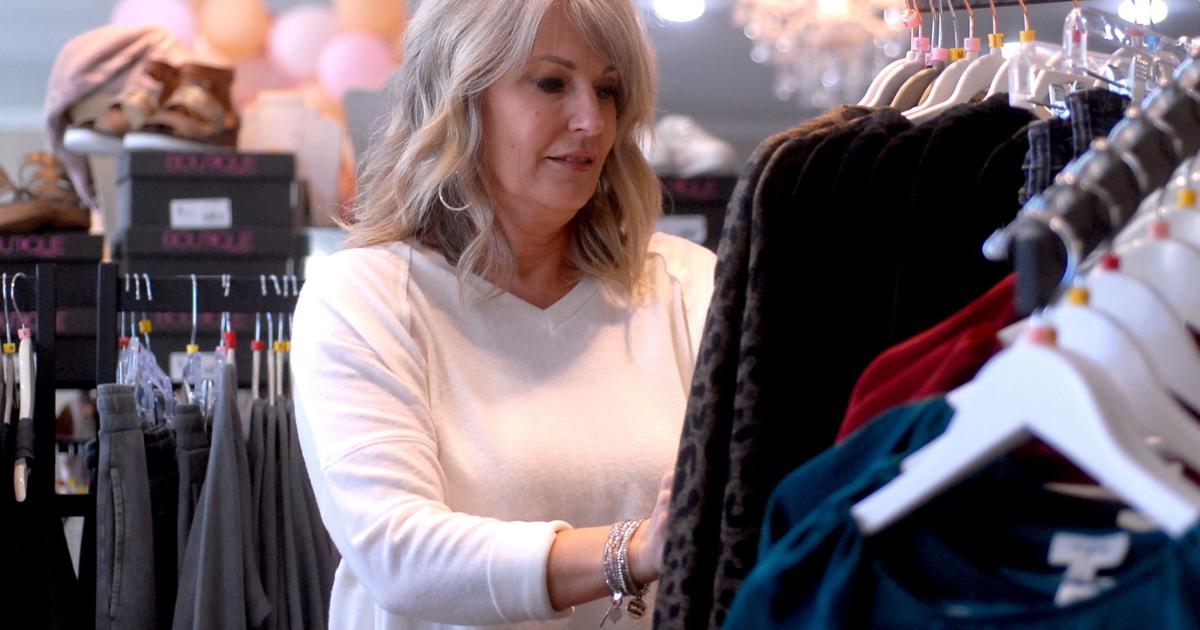 Local owners collaborate on inaugural store crawl | Newspaper
The owner of the studio, Stacey McFarland, considered the group of local boutique owners she had recently become connected with and had a smirk on her face.
"The power of bringing four entrepreneurs together with coffee," she laughed. "We hit it, planned it in an hour. It was awesome. "
Planning was for Saturday's inaugural boutique tour, featuring The Studio, Westwood Charm, Savannah Grace, and Studio M. All four boutiques will be open with Saturday specials for small businesses, and customers who have a receipt. from each shop can be entered to win a Kate Spades Prize valued at $ 400.
Women – McFarland, Jillian Wyand of Westwood Charm, Missy Grove of Studio M and Tia Collis and Jordan Shultz of Savannah Grace – became a force to be reckoned with as they realized that boutiques complemented each other, offering spaces holiday shoppers to stay local and find the perfect gifts for themselves and for others.
"On Saturday Shop Small, people buy for themselves, but they also buy for their gifts," McFarland said. "Think about the people you have on your Christmas list. You're going to be shopping at one store, but someone on your list might be shopping at other stores. "
Shultz later added that exploration provides a great opportunity to try new businesses that customers might not consider during their typical purchases.
"If it's not something you particularly like, then you have a friend or family member who might like it," she said. "Maybe you wouldn't have seen it if you hadn't crawled. This idea is beautiful.
The owners meeting showcased their community on the competitive mindset that now allows them to share ideas, learn from each other and grow together as business leaders.
"All of our stores are so different, and it's never about competition," Wyand said. "There is literally something for everyone, so how can we come together and do something where you don't have to choose? You can all support us. We all support each other when we go to the market.
"This is such a great group of women. We not only support small businesses, but also women-owned businesses.
Specifically, these are women business owners who are focused on empowerment.
"The more the merrier, the more the laughter. If people can buy more places, that's a better thing," Grove said. "I love that they're all women. It makes you feel like it. strong that you can do it and be sure that someone else will benefit as well.There are enough that can go around.
While each store has its own vibe, its own style, each owner has developed deep relationships with their customers that make the shopping experience even better. Grove said it's these connections that make small businesses, especially boutiques, such a great experience, with other owners echoing the sentiment.
"You come to places like boutiques for a personalized shopping experience, and that's the seating experience you get when you come to places like this that you used to have in stores. department store Candle where someone would come and say, 'What can I help you find?' Said Shultz. "We're kind of bringing that back, that classic, personalized shopping experience where you can have someone literally do your hair from head to toe, and you leave feeling beautiful and amazing."
"It is art that comes into play. You are a work of art that walks, able to adorn you with all the beautiful things, becoming that masterpiece that you would not have imagined.
McFarland agreed, saying that interacting with her clients while they try on clothes is one of her favorite parts of her job, the one where she can help someone out of their box or bring in a little positivity. .
"I love going out with someone in the locker room," she said. "You learn a lot about someone in a dressing room, because the first thing they do when they go out is say something not very nice about something about their body. I like being the one to go. over there, 'Nobody is watching this, they are watching this.'
"I don't want you to get it if you don't like it. I want you to like it. We all have a wardrobe full of clothes and nothing to wear because we buy the same things over and over again.
The differences in the offer of each store allow this thinking outside the box in the support spaces.
"During the holidays, during the giveaway period, even if it's not for you, it might be okay for someone else," Wyand said. "It's really cool, because someone can buy here just because I have the jeans that fit them best or they like the tops over there. That makes it really cool, because it gives everyone a different option. You don't have to choose; just support us all.
"For us, especially in our industry, we've all been through a pandemic where no one wanted to buy clothes because they were all staying at home. Everyone has had a hard time, but it's really hard to sell clothes when everyone is at home. Small businesses are literally the backbone of the community. We are the sponsors of the sports teams. It's so important to support small businesses to keep them going. It's more about the community than anything.
Supporting local stores supports neighbors, family and friends, because they are the ones who help small businesses, and these small businesses are the ones who help communities thrive and become destinations.
"Small businesses really are a community," McFarland said. "When someone talks about a neighborhood, they're talking about restaurants, and they're talking about the nice shops there."
The owners all thanked the community for the support they have offered over the past two years as COVID-19 has completely changed commerce and lives. They hope efforts like the crawl can help other stores thrive by building their own community.
"It helps us thrive by supporting each other," Collis said.
She paused before commenting that Thanksgiving week was about being thankful, the gratitude she has for everyone who has been behind her and other business owners since COVID-19 hit.
"We are very grateful that the community has supported us, because these two years have been so difficult," she said. "We opened a week before COVID started. The community, we wouldn't be here without them. Having such a community to support not only all the local shops, but all of them has been great. "
Studio M is located at 201 N. George St. in Charles Town and will be open from 10 a.m. to 3 p.m. Savannah Grace is located at 212 Viking Way in Martinsburg and will open from 9 a.m. to 5 p.m. is located at 1864 Winchester Ave. in Martinsburg and will be open from 9 a.m. to 3 p.m., and Westwood Charm is located at 145 N. Queen St. in Martinsburg and will be open from 11 a.m. to 5 p.m.