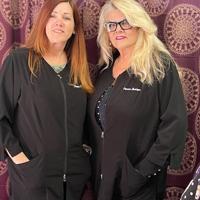 Professional Women of Tehachapi: Eleganta Boutique Offers Stylish and Affordable Clothing | Way of life
At Eleganta Boutique, we are a mother and daughter team eager to serve the women of Tehachapi by providing stylish yet affordable clothing and accessories for work and play.
We are extremely proud to be part of the Professional Women of Tehachapi 2022 section. We moved to Tehachapi a year ago and couldn't be happier. We appreciate the amazing people, the clean air and not to mention the beautiful surrounding mountains.
My daughter and I love the beauty industry. We are former owners of two beauty salons, so of course we wanted to open a small business here in Tehachapi. After some thought, we decided to open a cute little shop that offers the women of Tehachapi a small variety of clothes, accessories and gifts.
It's definitely a little scary to open a small business during this time, but we've had a great response from the community. Donna and I are thrilled to be part of the growing Tehachapi community with its wonderful history and exciting new projects on the horizon.
We look forward to growing with Tehachapi and making new friends along the way. We hope to contribute and support other small businesses in Tehachapi and would like to thank those who continue to support us as we are blessed and very grateful.