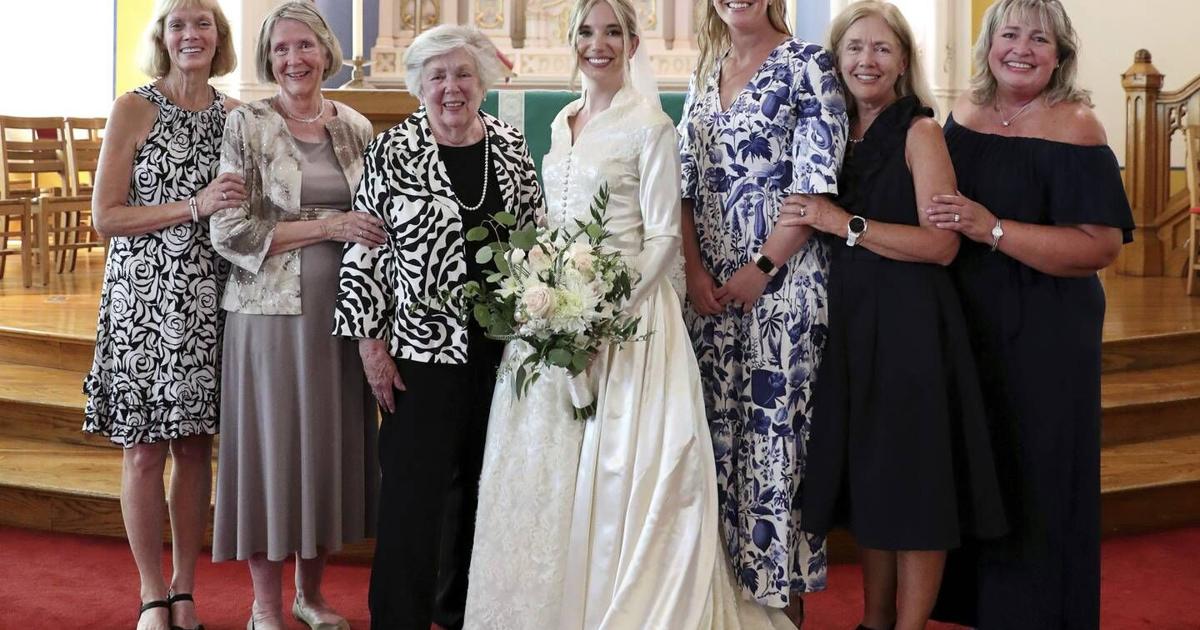 The wedding dress connects generations of brides in a Hallmark-worthy story. | Local News
MANCHESTER — In the summer of 1950, a bride-to-be went shopping with her mother for a wedding dress to celebrate her special day at the famous Marshall Field Department Store in Chicago. Little did she know then that the dress she bought that day would adorn seven other brides across three generations of her family, the last one last summer.
The original bride, Adele Larson Stoneberg, bought the long-sleeved white satin dress with a long train, high neck and tiny embroidered buttons in the back for just over $100 in 1950. The dress then went was borrowed by Adele's sister for her wedding three years later, slightly modified without changing the style or simple elegance of the original. Other marriages followed. After each wedding, the dress was professionally cleaned and stored for whatever the future brought.
In 1969, the daughter of the original owner proudly wore the dress to her own wedding with the blessing of her mother and the other former wife – her aunt. Generations of little girls and young women in the family quickly connected with the dress and the story, dreaming of one day wearing the dress to their parties.
There are now eight brides in all. Seventy-two years after that first wedding at Chicago's Ebenezer Lutheran Church in 1950, Adele Larson Stoneberg's granddaughter, Serena Stoneberg Lipari, proudly wore the dress to her own wedding on August 5 this year. Lipari's grandmother is now deceased, but relatives seated in the pews included an aunt, her great-aunts and several cousins ​​who had each taken turns wearing Adele's classic dress.
"It was truly an honour," says Julie Mackey, a teacher and administrator at Maple Hill School in Manchester, where she lives with her husband and three children. Julie was the seventh of eight brides to wear the family heirloom in February 2013. Her own mother wore the dress in 1969, the third of eight brides.
"I think the most important thing is that it connects us all deeply, you know. It connects me to my mom, aunts, and cousins ​​in a way that goes much deeper than the dress itself. There's something really powerful about walking down the aisle in this dress. Each of us, all of us have had very long marriages going back to the original wives.
When asked how the dress fit eight women for eight different marriages spanning more than 70 years, Julie said only minor alterations were needed.
"Everyone was very careful to preserve the original style without significant changes. I'm actually the one who had to make the biggest changes because I'm six inches taller than the rest of the brides in the family. It was up to everyone to take it in the hem here or fix a seam there. A few people opened the button at the top instead of keeping it closed. Some people added a petticoat to bring it out in the 90s when that was the style. I had this hem done by my mom, and I wore ballet flats to make it work. We also each wore our own veils and jewelry. All of those things have it personalized, but the dress is so classic. It fits generations and has been worn almost every decade, as recently as this year.
"It's a timeless style, you know. It doesn't scream any decade, is out of fashion at any time.
Julie says the dress was never meant to become a family tradition.
"I think it was just my grandmother's foresight that she took such good care of it in those early days and then passed it on to the next generation. My aunt started paying attention and saying, "Oh, we really should take care of it and preserve it. Now my mum has taken on that responsibility since my wedding in 2013. She has professionally cleaned and kept it, neatly stored between each wedding. And then it is also she who does the touch-ups by hand. So really, we kind of keep it in the family.
For Julie, there was no doubt that she would one day wear the dress to her own wedding.
"My mother got married in 1969, and her mother offered to buy her a new dress, and she said no. She really admired and adored her sisters, so she had no choice. I took the same decision when I got married. I wouldn't consider wearing anything else. I was a little flower girl at the weddings in 1990 and 1991. I have very vivid memories of admiring my two cousins ​​wearing this beautiful dress that my mother had worn. I knew since I was a little girl that I would wear the dress. There was never any family pressure around it. Everyone would totally understand if someone chose not to. , but that was never a question in my mind.
Nowadays, the dress is worn only during the wedding ceremony in order to preserve it for future generations of the family. It is usually removed in exchange for another simpler dress worn at the reception, for dancing and eating, and not having to worry about spilling things. It has become so important.
"I have two daughters who are young, but there are a number of brides, cousins, in their 20s and 30s, and teenagers who are obviously very conscious of dress and tradition, so we'll see ", says Julie. "There's really no pressure. We'll see who, if anyone, number nine could be and what they choose to wear, but there's definitely interest. My 7 year old daughter asked me if she could wear this one day. It's a long way off, but we're very aware and aware of it, so we'll make sure to preserve it so it's ready and available should someone else choose to wear it in the future. And if he retires. It's okay too."
The dress and story of the eight brides captured national media attention. There's even been some interest from a producer to do a possible Hallmark movie based on the dress, but nothing solid has emerged yet.
"It's funny because this has historically been a long-standing tradition within our family and has always been very special to us, but we just find it fascinating to see how people who are not related to us find this as interesting as us," Julie said with a laugh.
"But even if nothing else happens, the story of the wedding dress as part of our family history will live on forever. Each of us really values ​​family and tradition and that kind of thing lives on. We have each one is part of every special memory, like my wedding day in 2013. All the brides who had worn the dress were with me in the dressing room getting ready. We did the same just a year ago. months for my cousin's wedding, all there, all seven.
"The eldest bride died in 1987, but everyone, including my 91-year-old aunt, we all helped her get dressed together, which is really special," Julie says. "It's more than just, you put the dress on and you know, look beautiful on your wedding day. It's been such an important part of our family history for so long, all of these marriages have been for a long time. We don't really consider this as a lucky dress, but we think there is something lucky about it, which attracts us all because we all had the opportunity to share this wedding experience and in this same dress in coming back generations. It took on a life of its own.